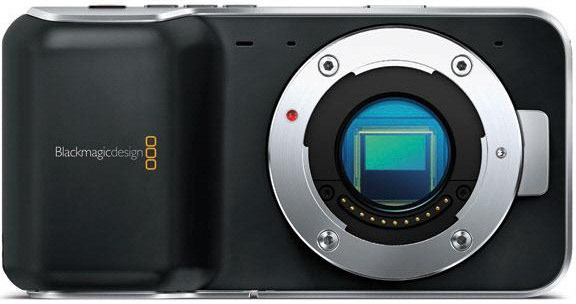 Why we love this camera?
The Blackmagic Pocket Cinema Camera is an amazing Cinema Camera.  We love it because it shoots in RAW format which can be color corrected in Post using DaVinci Resolve.  We also love its 13 stops dynamic range and its small size that can fit anywhere.  It is an extremely powerful camera with amazing features as below.
The Blackmagic Pocket Cinema Camera from Blackmagic Design is a compact Super 16 format camera designed for digital film production. The Super 16 sized sensor has an effective resolution of 1920 x 1080 and is capable of capturing 13 stops of dynamic range. The Pocket Cinema Camera records Full HD video in either the lossless CinemaDNG RAW or Apple ProRes 422 (HQ) format. The active Micro Four Thirds lens mount can accommodate a growing range of MFT format lenses as well as a host of excellent legacy lenses via optional adapters. Blackmagic Design has packed all of these impressive features into a remarkably compact (5 x 2.6 x 1.5") and lightweight (12.5 oz) magnesium alloy chassis.
13 Stops of Dynamic Range
The Blackmagic Pocket Cinema Camera delivers a film-like look with a super wide dynamic range of 13 stops. This means you retain all sensor data for DaVinci Resolve color grading. Plus, you get two dynamic range settings, film Log or video REC709, so you can choose the right dynamic range for your project. Using DaVinci Resolve Lite, which can be downloaded free from Blackmagic Design's website, you can color correct files natively or transcode them into a different file format to suit your post production workflow.
CinemaDNG RAW and ProRes
The Blackmagic Pocket Cinema Camera records into high quality ProRes 422 (HQ) and lossless compressed CinemaDNG RAW files so you retain fine image detail with wide dynamic range for amazing images. This means that the Blackmagic Pocket Cinema Camera supports true open file formats, so you're not locked into a strange file format that your editing software can't handle.