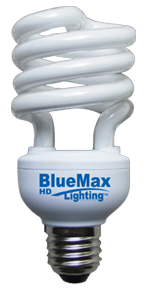 Why we love these Clamp Lights and CFLs?
We love our 4 Aputure LED Lights but when we need more lights in the background or to add more dimensions to our scene we have option of using these 6 CFLs (with 93+ CRI) with 3 Clamp lights. They are very handy in when we need more lights in our scene.
In addition to these we have Impact 4 Socket Fluorescent Adapter, which can be use in our big Clamp light and can have upto 4 CFLs at one time to add more light to the scene.